Accessible Home Modifications - Aging In Place Remodeling
Protect Your Estate
Metropolitan Life Insurance Co. recently completed their survey of assisted living costs across the country. On October 25, 2011 Forbes Magazine comment was "…Met Life Report is just the latest evidence that our system of long term care is broken for all but the well off."
Aging in place remodeling allows you to maintain your lifestyle and quality of life while remaining in your own home - it is not only possible but also makes good financial sense. Accessibility modifications to your bathroom, kitchen, and bedroom to maintain your safety and independence are available - call your handicap bathroom contractors, Silver Stripe Builders. (Average cost of assisted living in NE Ohio is $3,400 to $3,800 PER MONTH, with $5,000 to $6,000 PER MONTH not uncommon.)
Get started today, with a comprehensive assessment of you and your home. There is no financial investment required, and, You… keep… Control! You decide which recommendations to accept and when!
Some of the elements an assessment can include are: Light housekeeping/laundry, errands, grocery shopping, meal preparation, physical therapy, lighting changes for bathrooms, bedrooms, kitchen and hallways. Identification of "fall dangers" such as scatter rugs & thresholds. Changes in doors, handles, faucets to lever handles. We have partnered with one of the best home health care companies in our area to provide this comprehensive assessment and service. One call gets you a coordinated and comprehensive plan for your aging in place remodeling project!!!
Two Standard Baths Remodeled for Easier Access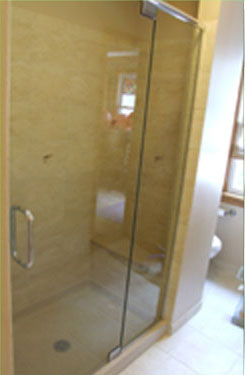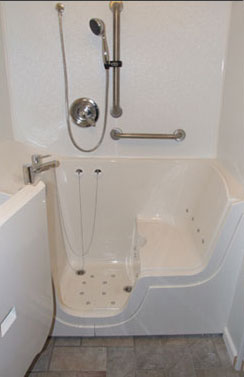 Medicaid
We are state certified by the Ohio Dept. of Developmental Disabilities to provide Medicaid funded environmental changes and supportive living for the mentally challenged and developmentally disabled. This certification includes individual options, level one waiver and supportive living services for both private homes and group homes.
We have successfully leveraged our expertise in Elder Care home modifications for this demanding and challenging environment. Most of the projects we have seen involve bathroom modifications for safe and hygienic bathing.
We are your wheel chair accessible home remodeling specialists - call us for a consultation!